Ayurveda Book for Modern Times to Stay Healthy and Younger Naturally
Health + Happiness = Wellness
Discover Your Unique Nature and What Specifically Works for You
By Rakesh Sethi, BS, CAHP 
BOOK RELEASED MAY 2013 
Paperback $19.96
Are you tired of being told to take pills that you know will not heal your body? Are you frustrated when you see exercise regimens or diet changes producing positive results for others but not for you?
In Health + Happiness = Wellness, Rakesh Sethi reveals why one solution does not fit everyone when it comes to healing the whole being. Health + Happiness = Wellness stands out from all other health and wellness books because it offers what conventional medicine overlooks—that you are a unique individual with your own unique physical, mental, and spiritual compositions.
Rather than trying to treat all individuals the same way, Rakesh explains why you need to discover how your individual composition operates and then combine that knowledge to achieve one goal—your natural wellness.
Crafted in a simple, logical, scientific, and pragmatic way, this groundbreaking book applies the proven wisdom of the five-thousand-year-old Ayurveda medical system. Rakesh Sethi offers his readers a chance to use natural medicine first to prevent diseases, while relying upon conventional medicine only as a last resort. When and what to eat, how often to exercise, sleep patterns and even compatible romantic partners are all explored in this book based upon an individual's unique compositions. Putting together the appropriate pieces will awaken readers to a unique and personalized path that will not only change, but enhance their lives.
 Praises for Health + Happiness = Wellness
"This book is a refreshing, whole-person approach for personal wellness. It integrates, rather than separates, the wisdom and science from both eastern and western medicine. It offers a practical plan for anyone looking to live a happier, healthier life."
— Chris J. Hawley, M.D., Medical Director, Wellness and Prevention, Romeo Medical Clinic
"This book is a treasure trove of information. Wellness is our most precious personal resource, and Rakesh Sethi presents a powerful, practical plan to reinvigorate your life at every level."
— Dr. Suhas Kshirsagar BAMS, MD(Ayurveda), Director, Ayurvedic Healing, California Integrative Medicine
"Rakesh Sethi has assembled simple, practical wisdom in a straightforward manner so each of us may be our own best doctor. Read, consider, give it a try…your body will reward you with your Inner Truth."
— Tom Yarema MD, Medical Director-Center for Wellness & Integrative Medicine, author of Eat-Taste-Heal: An Ayurvedic Cookbook for Modern Living
"As Rakesh Sethi wisely points out, the idea of a "one size fits all" lifestyle is silly because we're all uniquely different and our needs are different. In his simple, commonsense application of Ayurveda, Sethi cuts through the confusion to consider the myriad of important variations in body, mind, and spirit that make us who we are. He applies this wisdom to help us create a unique lifestyle plan that will guide us to ideal health, happiness, and wellness!"
— Len Saputo, MD, Medical Director, Health Medicine Center and author of the award-winning A Return to Healing
"Rakesh Sethi reveals why one size does not fit all when it comes to your health and wellbeing. Taking a pill or going on a diet that is not designed for your unique body may be not only unhelpful but even detrimental. Let him guide you to discovering the various mental, spiritual, and physical components that make up you, so you can come up with a plan to lead you to your best health ever."
— Dr. Veronica Anderson, MD, Radio Show Host of Wellness for the World
"It is the Wellness Manual every human should be born with."
— Dr. Pankaj Vij, MD FACP, Diplomate of the American Boards of Internal Medicine and Obesity Medicine
Read Quotes from the Book
Paperback $19.96
---
Suggestion: Purchase a perfect companion to "Health + Happiness = Wellness" :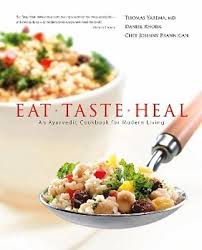 an Ayurvedic Recipes book for easy and simple to make recipes for your constitution, "Eat. Taste, and Heal" by Thomas Yarema, MD, Daniel Rhoda, and Johnny Brannigan
Eat-Taste-Heal: An Ayurvedic Cookbook for Modern Living
Hard Cover Copy $19.95