Natural Cure for Fatigue
Toxins, wrong diet, and poor digestion are all cause for low energy or feeling always tired. Natural cure for fatigue addresses the root of problem and not just the symptoms. Plus there no side effects in using herbs.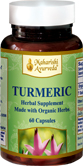 Turmeric:Helps purify the blood and acts as an antioxidant; supports healthy heart, liver, lungs, circulation and nervous system.  Caution: Do not take if pregnant.  More Details >>
Turmeric, 60 Vegetarian Capsules – $12.95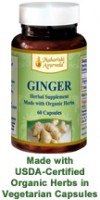 Ginger: Is a useful digestive aid; helps to maintain good digestion and balanced gas production. It is natural toxin burner. Getting rid of toxins is at the heart of natural cure for fatigue. More Details >>
Ginger
60 Vegetarian Capsules – $12.95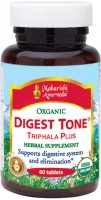 Digest Tone (Triphala Plus)
Supports digestive system and elimination; assists body in absorbing nutrients; high quality antioxidant; wide range of benefits.  More Details >>
Organic Digest Tone 60 Herbal Tablets (1000 mg) – $19.95
Following herbal formula should be used after detoxification or if you have just the beginning of fatigue and you want support to avoid getting it worse. It is rejuvenating and strengthening.
Stress Free Body: Supports natural resistance to physical stress and fatigue; reduces digestive impurities, promotes cellular regeneration to boost natural energy; helps increase supply of nutrients to cells. More Details >>
Stress Free Body, 60 Herbal Tablets – $41.95