Wouldn't you like a massage that does more than just relaxation? Ayurvedic massage is a unique massage that offers incredible following benefits: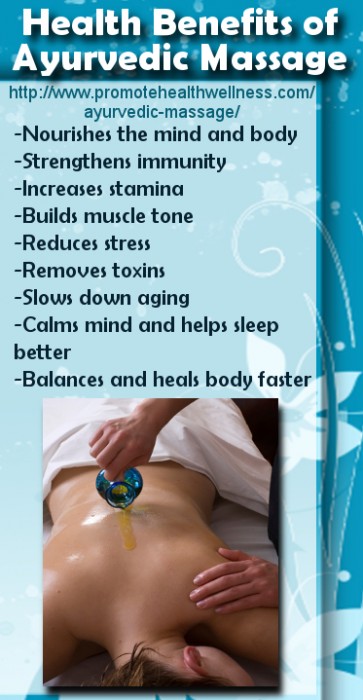 Nourishes the mind and body
Strengthens immunity
Increases stamina
Builds muscle tone
Reduces stress
Removes toxins (more effective when followed by exercising and sauna or steam bath)
Slows down aging
Calms mind and helps sleep better
Balances and heals body faster
With so many benefits, wouldn't it be nice to get an Ayurvedic massage every day. Well, it is recommended that you do it every day. However, with limited available time every other day will be fine too or even once a week will offer tremendous benefits. Imagine, that is fifty two times a year more than what you do right now.
Can you do this massage at home? Of course you can. In fact giving Ayurvedic massage to each other would be an excellent activity for a couple. In addition to the above benefits, you nourish your relationship as well.
What oil to use?
You can use sesame oil but to enhance the benefits of the ayurvedic daily massage use Ayurvedic Massage Oils. These precise blends of ayurvedic herbs and aromas are more easily absorbed by the skin than sesame oil or other regular massage oils, and as a result,  rejuvenate your body quickly. You can  purchase  Rejuvenation Massage Oil for Men and Women in our online store.
How do you do Ayurvedic massage?
Follow the simple instructions below:
Warm cold pressed three table spoons of oil (per person)
Start with vigorous massage on the head with palm of your hand
Using gentle strokes, massage the forehead, temples, ears, and face
Massage the rest of your body arms, hands, legs, feet, back, and chest
Massage stomach with gentle clockwise strokes
Note: To get more familiar with the Ayurvedic massage strokes, I would recommend receiving a massage a few times from an Ayurvedically trained massage therapist or Ayurvedic practitioner. But even if you don't have a chance to learn from a trained therapist, you should continue on your own. The most important part is to supply the oil in a loving way.
Caution: No hard deep tissue strokes should be used. Remember gentle loving strokes promote calming effect on the mind. Do not do Ayurvedic massage if you are overweight, have fever, or bad digestion.
Give 20- 25 minutes time to absorb the oil to deeper layers of your skin. Use this time to do stretches, bending, twisting, or even gentle running. After oil nourishes to the deeper layers, sweating in sauna or steam bath is wonderful to detoxify your body. Stay in sauna till you are sweating, perhaps 10 minutes or so. After that take warm shower with mild soap and shampoo. Avoid using hot water and harsh soaps.
Note: If you do not have access to sauna, you can get one a portable sauna here.For full benefit of massage, use sauna after every massage.
One of my clients, a woman in her thirties had spotting after her periods around the ovulation time for over three years. After some tests, her doctor couldn't find anything and recommended taking birth control pills to remove this problem. She didn't want to take the pills with concern of possible side effects plus she was also trying to get pregnant.  Just then she had started to do an Ayurvedic massage two times a week. After about eight weeks, she saw her spotting completely went away.
This real life example illustrates how Ayurvedic massage can strengthen, balance, and heal minor irritable problems in otherwise healthy body. Ayurvedic massage is a loving treatment for your mind and body. Enjoy it with your partner. Be Well!
Ayurvedic Massage Oils for Men and Women
Tags:
Life Style
,
Natural Remedies
,
Wellness