In part one of meditation article series, you discovered what is the true purpose of meditation. Here you will find out how to realize benefits of meditation in the real world. First we must understand how our body, mind, & intellect work.  While body can do multiple tasks, the mind can only do one task at one time.  When our mind gets involved in performing multiple tasks it gets tired easily & the quality of each action suffers. Which in turn leads to uncertainty, uncertainty leads to increase in anxiety, and anxious mind creates restlessness ultimately leading to stress.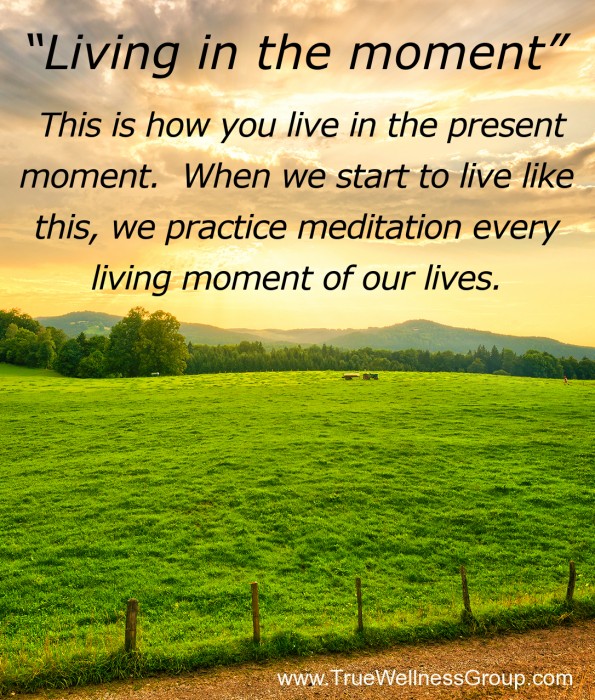 Now this is where we realize the benefits of meditation practice.  Just as in during meditation in room alone, we used our intellect to keep the mind on one & one thing alone, we do the same thing here.  Our intellect must always keep strict observation over our mind & prevent the mind from wandering off into past or future and taking on multiple tasks.  By staying focused on the one task at the present moment and completing it gives us great satisfaction; then completing five tasks with uncertainty in mind, which ultimately leads to do-over & stress.  You must have heard of "living in the moment".  Well, my friends, this is how you live in the present moment.  When we start to live like this, we practice meditation every living moment of our lives.
We discussed stress created due to mind involved in multiple tasks.  Another source of stress is mind living in conflict.  Often conflicts create a sea of emotions in the mind since people's egos are involved.  Therefore, here it becomes extremely important that intellect over sees action or actions that will resolve the conflict without creating any additional conflicts.  Here again we realize the benefits of meditation. Using meditation technique, the intellect must use the mind as a field on which various different resolution action scenarios can be played out.  While playing out these scenarios, intellect must keep emotions, egos and selfishness in check. The mind focuses on an action that resolves a conflict without creating any additional ones.  This is a technique for conflict resolution and to avoid any potential conflicts.
So far we have been discussing "outward" benefits of meditation.  If you are comfortable here, it is absolutely fine.  But there are also an "inward" benefits of meditation.  This inward journey is very subtle, must be taken seriously, and only after one is at peace with all external matters.  Otherwise it is difficult to stay with it, and if one becomes frustrated, one should immediately step back from this type of meditation practice and take up again later at an appropriate time.
Imagine if You Tried These Simple Meditation Techniques
Imagine benefits of meditation  if you were to start using meditation techniques in your everyday life situations.  In one sentence your stress will decrease and success will increase.  You will have more control over your life.  You will avoid creating excessive stress from conflicts at home & at work, conflicts in relationships, and problems with health.  Stress and mind in conflict can become a root cause of a disease.  By practicing regularly and daily, you could avoid any future potential health problems and create true wellness.
A mind living in conflict cannot meditate. How can you know peace without meditation? How can you know joy without peace?   So if your goal is to live in peace and experience joy in your life, you must give these techniques a serious try.
Summary
In nut shell, we practice meditation in our part time only to put meditation into practice full time all day to realize benefits of meditation in all of our other affairs.
If you liked the benefits of this article then the biggest compliment you can give is by sharing its benefits with others.
Be Well!
Rakesh Sethi
Share your comments, thoughts and suggestions below. I appreciate your time & will take the time to read every single one!
Tags:
Life Style
,
Wellness