Archive for the 'Ayurvedic Medicine' Category
---
---
---
---
---
---
---
---
The initial Ayurvedic consultation could last 90 minutes or more. During the first Ayurvedic consultation, the complete focus is on you. Who you are, what makes you unique, and why you have symptoms, if any? In fact, unlike doctor's visit, you can and should visit Ayurvedic practitioner without any symptoms. The goal here is health promotion and disease prevention.
During the consultation, an Ayurvedic practitioner will:
Uncover your unique mind-body constitution
Discover your health history and family medical history
Learn about state of your current health
Get into details of your daily diet
Learn about stresses in your life
Get to know your lifestyle, exercise regimen, etc.
In Ayurveda you and your health are at the heart of the health care system. Every health recommendation is based around your uniqueness.  Shouldn't a medical system work this way, rather than revolving around a disease? Thus a very important first step in Ayurvedic consultation is to uncover your unique mind-body constitution. It gives Ayurvedic practitioner a clear picture about your unique physic, physiology, and psychology. Your original constitution is your true self in balance and health. When you have any physical or mental health issues, you are out of balance or in altered constitution. The Ayurvedic practitioner's job is to uncover and remove the cause and restore you back to your original (constitution) balance.  Imagine if a health practitioner has no clue what your original unique balance is, how can he/she help restore it?
Receive Your Diet and Lifestyle Chart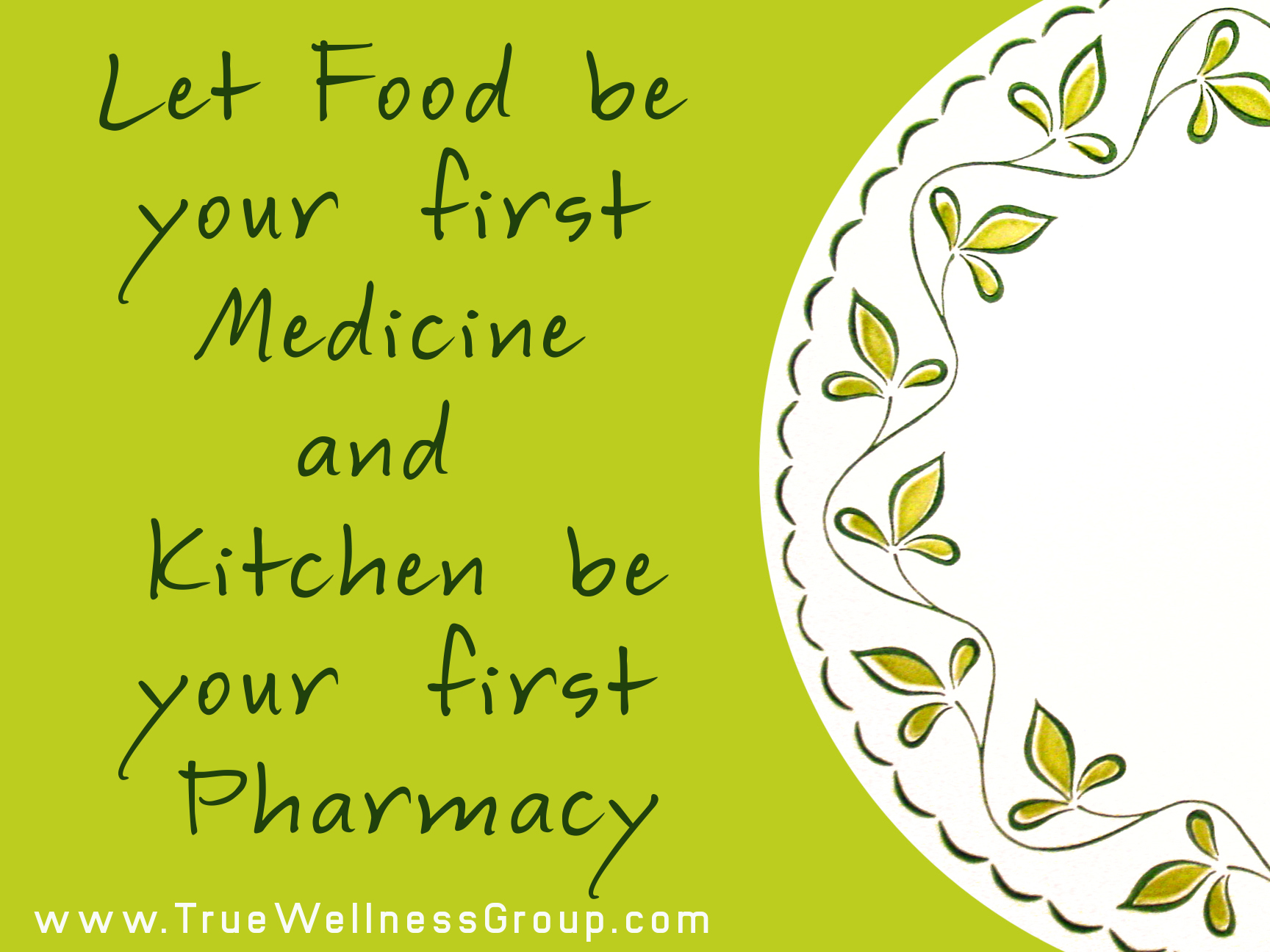 From Ayurvedic consultation, you receive diet and lifestyle chart created specifically to address your health issue and restore balance. After the issue is resolved, a new diet and lifestyle chart suitable for your original mind-body constitution is created. In Ayurvedic medicine, food, spices, and herbs are used as your first medicine. I would suggest you keep this chart in your kitchen and follow it to participate in your health every day.
The goal of initial Ayurvedic consultation is to fill missing healthy links and eliminate unhealthy revolving around your unique constitution.  If you have no issues, visit your Ayurvedic practitioner 1-2 times per year to make adjustments otherwise visit as recommended by practitioner per your situation. Following is an example of Ayurvedic diet and lifestyle chart you receive after the consultation:  [View larger version]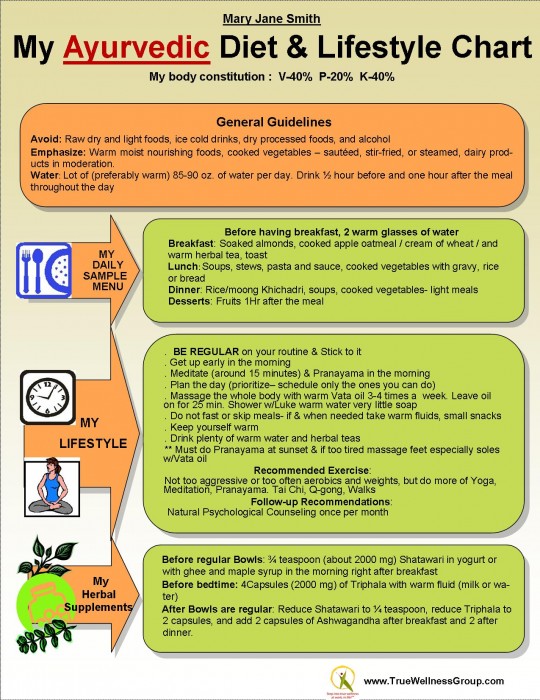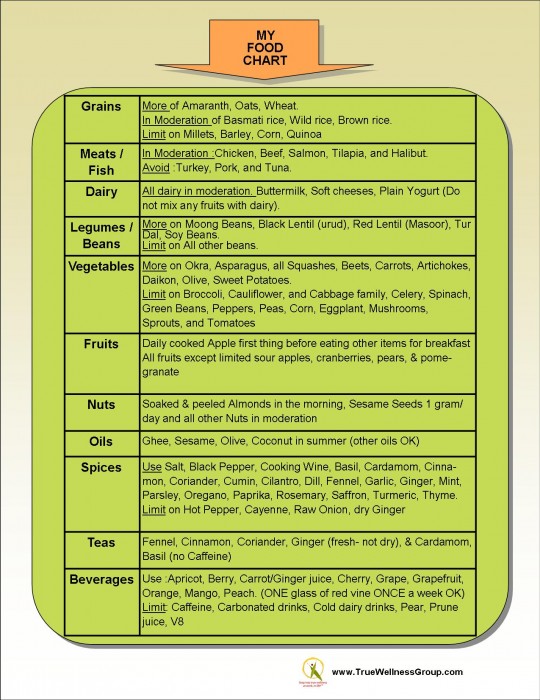 "The other day one of my clients told me Rakesh what you are teaching is going to make me self sufficient. I will have no reason to see you again. It seems as if you are working yourself out of business."  Isn't that what a health practitioner should do- to make you self sufficient?
You can schedule your consultation over Skype, phone or in person. Read what is included in different Ayurvedic Wellness Coaching services here.
Testimonials
"For four years I suffered from chronic fatigue syndrome and fibromyalgia. These diseases are debilitating with flu-like symptoms and extreme fatigue – I needed 14 hours of sleep each day!My illness took over my life, making it impossible to work, take care of my family, and play with my 10-year-old son. After a whopping 15 minutes of analysis, my doctor gave me sleeping pills and antidepressants. He concluded my illness was all in my head! I spent months trying specialists, vitamins, and medications – with no cure in sight. Now I truly was getting depressed and losing hope. A few months ago, I decided to try a more natural approach. I began a program that would take my entire mind, body, spirit, and lifestyle into consideration. My Ayurveda journey with Rakesh Sethi gave me a complete understanding of what my body was going through, why it was responding with this illness, and how to change it. Rakesh guided me through a detoxification process and a new diet, including natural foods, spices, and herbs that were right for my body type. I also incorporated breathing techniques, meditation, and yoga. After only four months, I was a changed person! I feel vibrant and energetic. I feel like 'me' again, and it feels fantastic! There is no greater gift than to have quality of life. Thank you, Rakesh!" – L.W., Staffing recruiter
---
"I had the privilege of being treated by Rakesh Sethi for my anxiety and stress matters. I was working with a major oil corporation and had a lot of things going on in my personal life. The stress became too much, and I was contemplating taking pharmaceuticals for my sleep disorder, panic attacks, and mood swings. I approached Dr. Rakesh, and we spoke about how I could resolve this hardship. Rakesh is very personable. While he encouraged me to reflect on matters in life from a spiritual perspective and continue my meditation with the zeal of a warrior, he also gave me herbal supplements. I continued to take these supplements regularly for more than a year. As a result, my mood swings and periodic bouts of panic and depression are gone, and my level of anxiety is much lower. Rakesh is an engineer from UC Berkeley, and he has given up a lucrative career in engineering to do something that is far more necessary and relevant for today's world. He wants people to be truly healthy and not go back to doctors again and again. His Ayurvedic way of looking at illness is impressive. He is definitely a doctor for everyone, because he wants us all to be well." – P.P., Oil and natural gas engineering executive
---
"I met with Rakesh several times over the course of five months to help me apply Ayurveda to my life. It was such a relief to find someone to address my actual health and wellness needs instead of prescribing a pill or giving general advice. Rakesh used skill and patience to determine my individual nature, and I was very confident in his findings. These findings helped me take control and improve my physical health as well as my state of mind. Rakesh gave me concrete suggestions to improve my health and lifestyle. And they were easy to implement! He truly gives you individual, specific tools to live your best life. Rakesh taught me the relationship between my body and mind. Ayurveda has given me insight and understanding of why I am the way I am – and how to use this knowledge to create a happier, more productive life for myself and the people around me. I cannot say enough positive things about Rakesh. He is a talented teacher and an empathetic and analytical listener. He shows a real enthusiasm and passion for his work, and he truly desires your improvement and satisfaction with your life." – T.J., Homemaker
---
---