What is your definition of health? When are you really healthy? You should no longer think of health as being one dimensional—as just pertaining to maintaining physical (body) health. You are not just a physical body. Health, as defined in conventional terms, has to be redefined. You must take into account all the components constituting the whole being. Collectively all the components work together to create balance in an individual. According to the Ayurvedic medical system, balance for each individual is unique. Therefore, health in one word can be defined as "balance."

This balance in you exists:
when you get hungry at the right times and to the right amount, not too little and not too much.
when your body produces the right quality and quantity of muscle, fat, and other tissues per your body's constitution.
when your body systems function in balance, absorbing the proper amount of nutrition and discarding the proper amount of waste at the right times.
when all three energies—air, fire, and earth—are in the right proportions for your body constitution.
when your mind deals with the ups and downs of your emotions without losing balance.
when your intellect is fully available to exercise self-control over whims and make good decisions.
when your spirit is full of bliss (calm and peaceful).
When all of the conditions listed above exist simultaneously, you are an embodiment of total health and happiness. You live in true wellness. You attain balance in your equation of Health + Happiness = Wellness.
This true wellness, no doubt, is a tall order to maintain on a continuous basis. The best way to look at your wellness is to imagine that you are walking on a high wire and not on solid ground. You have to work continuously to maintain your balance. A small gust of wind or any mental distraction can throw off your balance. A little mistake can cost you your balance. The reality is that, in spite of your best efforts, there is always some disturbance that could rock your balance. It could be overeating and drinking at a party or an emotionally charged argument with your partner at home, or some conflict at work, or an unfavorable turn in the stock market, or any number of other things that could throw you off your physical and/or emotional balance. You need to make constant adjustments to keep your balance.
Dynamic Model of Health
When you participate in maintaining your balance every day, you begin to live a new dynamic model of health. The old way is the static model where you simply go about living your life and only participate to maintain balance after you become sick. In the static model, sometimes it may be too late for the adjustments to work. The dynamic model is where you truly practice prevention and enjoy its benefits.
You may find it easier to live in the static model of health today, but you will pay with your health and wallet tomorrow. Can you really afford to live in the static model? I would like to introduce you to simple knowledge and strategies in the "Health + Happiness = Wellness" book that will make it easier for you to live in the dynamic model of health.
The above article is part of the Section I taken from the book.
"Health+Happiness=Wellness" will help you discover your unique nature and use that information to design your personalized wellness plan that will not only help you stay away from diseases for the rest of your life; it will also save you a lot of money on healthcare. Click on the book to read more.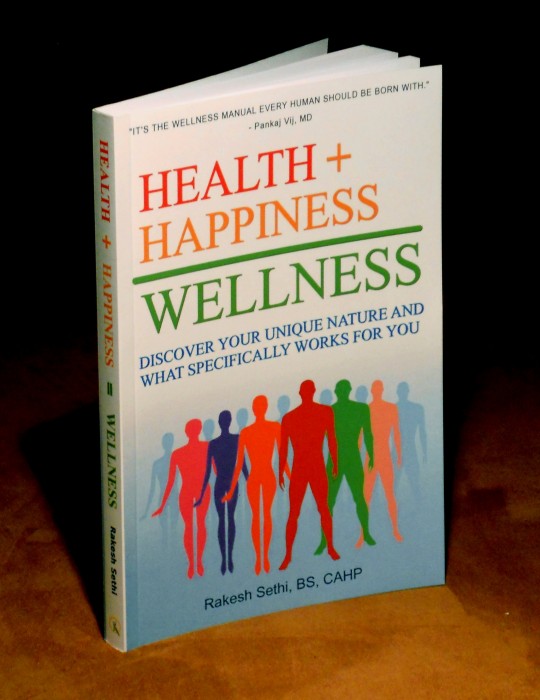 Tags:
Wellness