Vacation and holidays are fun!  But we all know when we have over eaten, over drunk, over enjoyed, over done and all at the expense of our body.  Our body goes out of balance (health) and if we continue such a life style, we feel lethargic, dull, lack of energy, low appetite, gas, bloating, constipation, and we gain weight. Just like we do oil change & tune up for our car, now is good time to do "oil change", that is to detoxify body naturally.
Your body, overtime, has accumulated toxins and body systems functions are compromised and if you do not detoxify whole body now, you may land yourself some illness.  If you have come to this point, taking a short cut with vitamins or energy drinks is not the answer. In fact your "digestive fire" is already compromised & you may be harming your body by putting unnecessary doses of vitamins plus throwing your hard earned money down the drain. So  at this time go with the total body cleanse and also as a general maintenance to do a whole body cleanse is good for you.
Let me show you exactly how you can detoxify body naturally in 6 to 7 days gently following simple steps: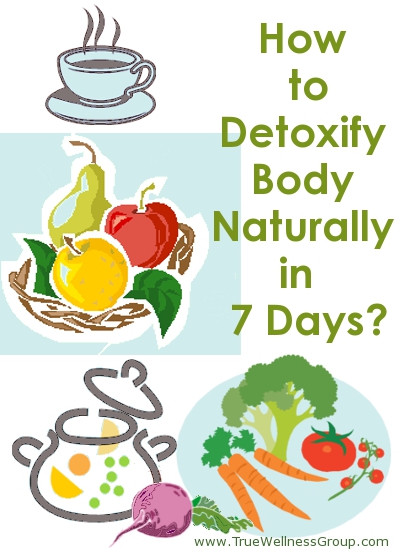 1.  Start first day with ONLY 32 oz. – 48 oz. of warm to hot water in the morning. Have warm light vegetable soup for lunch.  Or if you can manage with fruits only choose cooked apple or pear or uncooked grapefruit or pomegranate. In the afternoon have only fresh Ginger tea.  Evening meal if you can skip great, if not, have only Moong lentil soup.  Rest & avoid exercising on this day.
2.  For the next 5-6 days:
Have warm light easy to digest foods like chicken broth soups, rice & Moong lentil soups, or other light meals
Drink hot fresh cut ginger tea 3 cups and only hot water through out the day
Take 1000mg Turmeric (2x500mg capsules) after each meal w/ warm water
Take 2000mg Triphala (2x1000mg tablets) Not after dinner but 1 hour before bedtime w/ warm water
3.  AVOID the following during these days:
Icy cold drinks, Fried foods, Red Meats, Cheese, Heavy creamy & sugary foods, Raw vegetables, Cold foods
Follow the above steps and you will detoxify body naturally of accumulated toxins in a matter of days.  No shock & aw or synthetic chemicals- all natural gentle process.  If you do not see enough improvement in 7 days, extend it for 3 more days.  A good measure is – Your energy level & robust appetite will return.
For more gradual and gentle detoxification, use herbal formula Eliminate Toxins.
Caution: Do NOT detoxify body, if pregnant.  Also if you have any medical condition, check with your physician before starting any procedure.
Note: If you like, you can practice "mini" version of the detox by following the above steps EXCEPT rather than five to six days in step two, do this step for only for two days. Use this mini version to detoxify body naturally more frequently (every or every other month) for it to be effective. Consult with your Ayurveda practitioner how often to detoxify the body.
If you liked this article then biggest compliment you can give is by sharing this wellness with others.  As always keep in mind natural health tips along with right eating offer preventive care and promote health and wellness naturally.  Be Well!
Rakesh Sethi
PS:  To know more if you are Eating Right Foods as per your unique Mind-Body constitution and create less toxins in the body, please subscribe to the FREE "simple secrets to good health with right eating" mini course.
What Do You Think?  Feel Free to Speak Your Mind
Share your comments, thoughts and suggestions below. I appreciate your time & will take the time to read every single one!
Tags:
Life Style
,
Wellness