To get most out of our meals, we need to follow certain rules of combining food.  There are no secrets but a scientific basis for combining foods that are compatible.  It is on this scientific basis and including tips from ayurveda natural medical science, we have created a compatible Food Combination chart.  Follow the recommendations on this chart for clean eating and optimum digestion.  As a result, absorb the most nutrients from the foods you eat.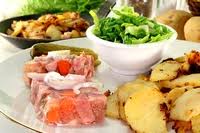 Select foods from the combination chart that are good for eating together.  When we mix different food, we are bringing several chemicals together and the digestion itself injects various digestive juices and enzymes (more chemicals) to breakdown the food for proper absorption.  Our goal is not only to eat clean but also have a clean digestion. For example, protein and carbohydrates is not a good combination.  The digestive process for protein takes on very different route than digesting carbohydrates.  The protein requires a lot of acid and longer time in the stomach to breakdown for digestion and during this time acid literally "burns" the nutrients in the carbohydrates.    Thus the benefits of the carbohydrates are lost due improper digestion plus the "burned" carbohydrates in the GI tract will create gas.
The most common food combination that creates indigestion and gas is combination of high rich protein and carbohydrates.  For the reasons described earlier, combining meat with potatoes, bread, sweets, and fruits should be avoided particularly.  So what do we eat protein foods with? Animal protein foods are best digested when combined with fresh or cooked vegetables and highly acidic fruits.  However, the plant protein foods like nuts, beans, and legumes may not be combined with high acidic fruits such as oranges, lemons, and pineapples.  Look at the food combination chart below for more details.
Over 80% of the digestive disorders are caused by NOT choosing the right food combination.  You will know when you have eaten a wrong combination.  Your body will express the signs of discomfort, gurgling sounds, and gas.  So a sign of clean eating is when you eat compatible foods that enable a clean efficient digestion without producing discomfort & flatulence after the meal.
Food Categories
Animal Protein: Meat, Cheese, Eggs, Poultry, Fish
Plant Protein: Nuts, Seeds, Soya beans, Legumes
Vegetables:            All vegetables like leafy greens, cabbage, cauliflower, broccoli, tomatoes, cucumbers, etc.
Fats: All Oils, Butter, Margarine
Starches: Potatoes, Breads, All Grains
Sweet Fruits:         All sweet fruits like Bananas, Cantaloupes, Watermelon, etc.
High Acid Fruits:    All fruits like Oranges, Lemons, Pineapples, etc.
Sweet Fruits:         All sweet fruits like Bananas, Cantaloupes, Watermelon,  etc.
Low Acid Fruits:    All remaining fruits like apples, apricots, pears, peaches, etc.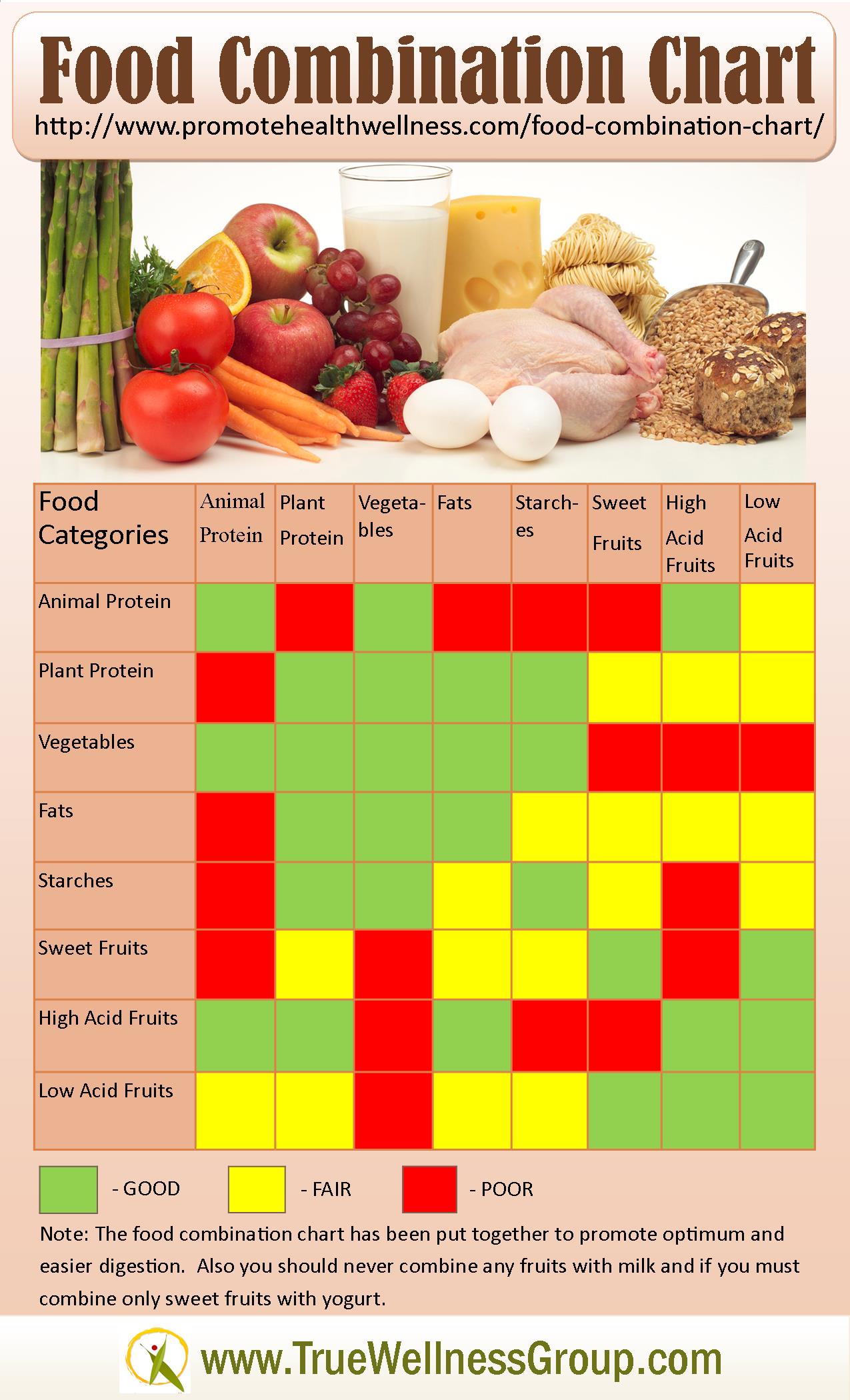 Note: The food combination chart has been put together to promote optimum and easier digestion.  Also you should never combine any fruits with milk and if you must combine only sweet fruits with yogurt.
  Make the most out of your money and efforts you put on preparing meals while promoting health and wellness.
Tags:
Health Coaching