For natural herbal anxiety remedies to be effective, you must commit to changing your diet and life style. This particularly includes changing eating and living behaviors to remove mental and physical causes that increase your anxiety as discussed in the previous article.
The physical causes must be removed prior to beginning natural and herbal remedies for anxiety. In addition, the mental causes must be addressed with the physical treatment.  Along with seeing a psychologist, you can significantly benefit by joining a local self help or support group and receive help by listening and sharing problems and achievements with each other.
Natural remedies for anxiety include the following suggestions:
Diet Modification:
Always eat warm cooked food with a table spoon of olive oil (per day)
No ice or ice cold drinks
Eat 2-3 ounces of mixed nuts per day. Almonds should be soaked overnight in water, peeled and taken in the morning
Life Style Modification:
Organize your day- make a list of things to do and stick to them (have ONLY reasonable #s on to do list)
Perform oil massage 2 -3 times per week with Ayurvedic Massage Oil. Leave oil on for 20-30 minutes before taking shower
Aerobics or fast paced exercise NO MORE than 2-3 times per week
Include meditation and yoga exercises in your daily morning routine (20-30 minutes be fine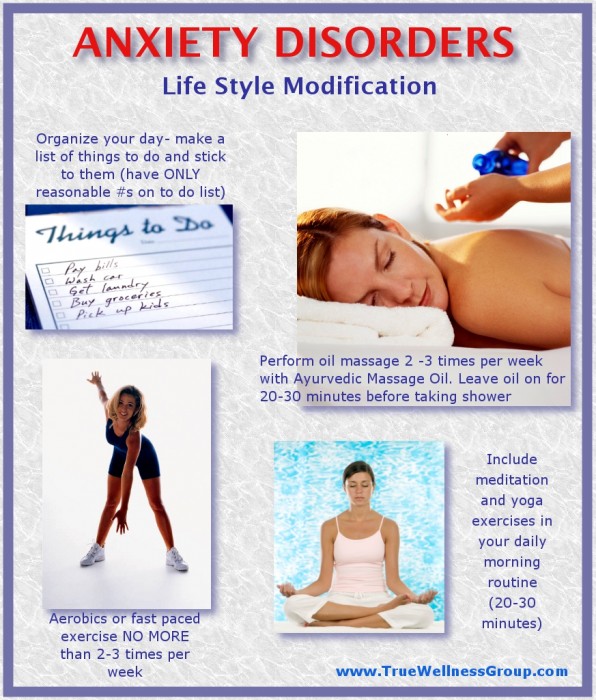 Supplements and Herbal Anxiety Remedies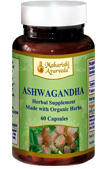 Take Vitamin B12 and 2000mg of fish oil daily after a meal
Take 1000mg of Ashwagandha herb with warm milk after breakfast and 1000mg after dinner.
Take 1000mg of Shankpushpi herb before bedtime with warm milk.  If you have trouble sleeping, you can increase the amount up to 3000mg
You can purchase both herbs and Ayurvedic massage oil  in our online store. The herbal anxiety remedies suggested are rejuvenating, relaxing, and not stimulating. They are nerve tonic for nervous exhaustion with no side effects. They promote tranquility without dulling the mind. DO CONSULT with your Ayurvedic practitioner and physician before making changes in your regimen. Be Well!
Tags:
Health Coaching
,
Life Style